Welcome to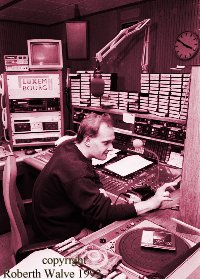 DJ Jonathan Miles programming the CD-player
on the 9:th of September 1992 in the Radio Luxembourg studios
on 45 Blvd. Pierre Frieden.


---
---
Welcome to the gallery!
This site is a tribute to the G-R-E-A-T 208!
If you have been here before you will notice some updates!
If you are a new visitor - WELCOME!
Here you can find some pictures from the GREAT 208,
the legendary Radio Luxembourg 208 meter /1440 KHz on the medium waveband.
Well, the english service, of course.
Nowadays the station is gone, but just before the closedown i visited the radiostation. Ah, those memories - the greatest stations of all time - now you can relive them.
Enjoy it!


---



OK - let's enter the gallery..!
The summer of '81 was hot and the Luxembourg-team was still on 208/1440
and they sounded great. Want to see the dj:s, just click to this site!

And eleven years later, the signal were D I G I T A L from the Astra-satellite -
and Luxy had become a 24 hour station with adult-format.
Let us take you to the studio on 45 blvd. Pierre Frieden,
just outside Luxembourg Ville.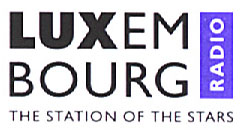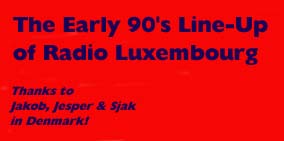 Jakob, Jesper & Sjak from Denmark LOVES 208 Luxembourg
and thanks to them the Luxygallery now can present these rarities:
Photos of the DJ-Line-Up in 1991!

More pictures from the Station of the Stars delivered by Andreas Kramer from Werl in Germany!
---



Note: The purpose of this page is to contain lots of Radio Luxembourg-information.
I would be pleased if you send me an email with your greatest memories from
"The Station Of The Stars".
Thanks to all of you that have sent me notes and reflections!
And do not forget to check the guestbook!
Regards Robert.

---
WHERE ARE THEY NOWADAYS?
If you have any information where we can find the former
Luxy-DJs today, please mail the Luxygallery!

---

Want a ?
Just mail me and i will put it here!
Give me your reflections!

Thank you!
E-Mail: radiomuseum@swipnet.se

---

Thanks to Niclas Paulsson for the great logotype!

Visit him and his cool site at:

---