Clothes
"Natural textiles, timeless design, individual special clothes, each in a different colour - oneoffs for the individualist "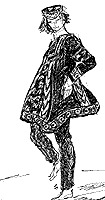 Fashion like everything in world now rages in constant changes. I make clothes that are influenced by ethno and fashion trends but are classic. Quality clothes should be able to be used as a base in ones wardrobe but it doesn´t have to be anonymous.

The clothes are sewn of natural materials; silk, linen, wool or rayon. I dye many of the materials myself with batik or natural dyes and also paint on silk and velvet. The clothes are sewn in northern sweden where there is high unemployment in the villages around where I live.