Let all your friends believe you´ve been there. Buy your presents netwise.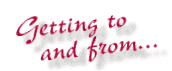 Sleep, eat and enjoy yourself, cruising the nortern sea with



Scotweb is yet another site containing a great deal of information about many things. Kilts, bagpipes, craft, history, tourism, environmental issues...


Soccer at Teamtalk´s scottish sites. Does the Rangers fans really like Paul Gascoigne? And who scored the goals for Celtic last week?


Finally, if the links at this site weren´t enough, you can find a scottish website directory at Scotland.org