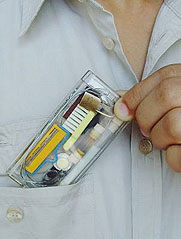 Any check in luggage Sir?
No I have it all here in the pocket, 1 oz, 30 g.
The basic outfit consists of one pair of trousers and one shirt. These only trousers have four large pockets for the gear.
I packed Ultra Compact and Light, about 1.5 liter, 0.6 kilograms, in the pockets.
Some 30 items, of which some 25 are specially made or modified to be compact.
Sweater, volume 3 liters, 400 g, too big for Ultra Compact Travel. I make a insulating vest, one liter, 100 g, as a replacement.
Two such vests and another wind jacket, wind trousers, gloves, socks and a hood and I may be OK down to 0 C. The Holy Grail of Travel Ultra Compact?
I will modify gear for next trip. Wind gear: made of more air tight material, better sealing at openings. Insulation of high tech material.